Big Dream
Posted by Julie Sebock on Wednesday, February 17, 2016 at 10:50 AM
By Julie Sebock / February 17, 2016
1 Comment
Every business starts with a dream.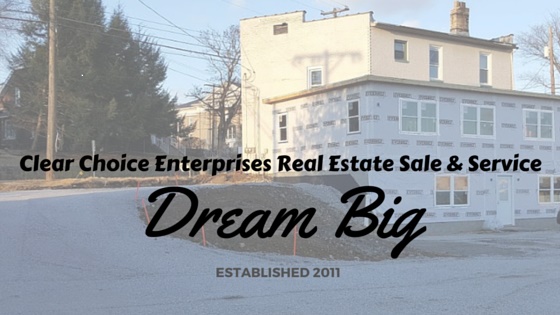 For Pete Sebock that dream began when he first entered the world of retail and personnel management. Over the years he grew to love the challenge of helping others reach their potential and exceed their goals. As a district manager for a large corporation he managed personnel and operations across multiple states.
After his retail journey ended, Pete turned his sights on the real estate world. A place he had come to know and love. Starting out at the beginning and learning under established agents, Pete gained the experience he needed to drive his own success. With his perseverance and tenacity, Pete became a successful real estate agent in his own right after 10+ years.
In every career there comes a turning point. A moment when you must decide where you will go and, ultimately, how far you are willing to go to reach your goals. For Pete and his wife Julie, this moment came in 2011 when they decided to strike out on their own and founded Clear Choice Enterprises. With humble beginnings, this company was founded on a belief that every client, potential client, and agent is family. At its heart CCE looks to help families become part of a bigger family and find their dream.
This year the CCE family is celebrating 5 years of building dreams. Their dynamic team of agents has helped hundreds of families and individuals over the past 5 years find and support their dreams. In the course of helping others, Pete and Julie have slowly but surely been working toward their own dream. Having the ability to train new agents on-site, provide office space for agents and the professional team needed to help their agent succeed was just a dream until last year when they were finally able to break ground.
The expansion to their location on East Brady in Downtown Butler, is a daily reminder that dreams really do come true. After completion, the new addition will house a full training room, private offices, private conference room and the space they need to help local agents be successful. The team at CCE knows that with the support of the community, they would be able to achieve their dreams. They are looking forward to inviting the community in to see the new space and say thank you for the years of support and dedication.
Check back for more updates and details on how the project is progressing.